Safety and Tolerability
SAFETY AND TOLERABILITY OF JARDIANCE® (EMPAGLIFLOZIN) A SGLT2 INHIBITOR FOR THE TREATMENT OF TYPE 2 DIABETES MELLITUS1
Jardiance® is a sodium-glucose co-transporter 2 inhibitor that works independently of β-cell function and insulin resistance1.
A total of 13 076 patients with type 2 diabetes were treated in placebo controlled, double-blind clinical studies of 18 up to 24 weeks, to evaluate the safety of empagliflozin1.
The overall incidence of adverse events leading to discontinuation with Jardiance® was similar to placebo1.
JARDIANCE® SAFETY AND TOLERABILITY PROFILE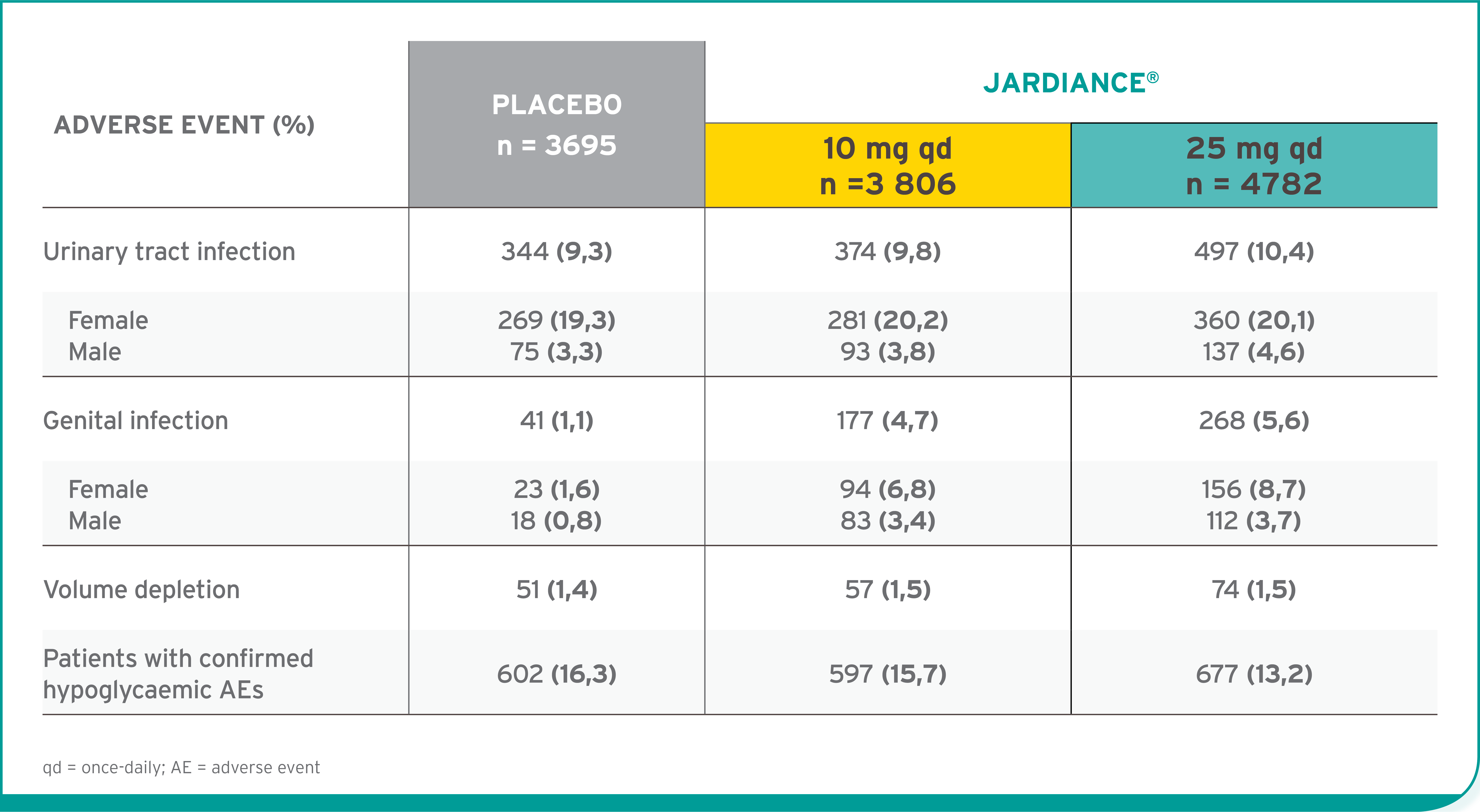 INCIDENCE OF URINARY TRACT AND GENITAL INFECTIONS WITH JARDIANCE® vs. PLACEBO2
The incidence of both genital and urinary tract infections was higher in female patients than male patients2.
The majority of patients who experienced a urinary tract infection or genital infection reported a single event which was characterised as mild2.
LOW INCIDENCE OF HYPOGLYCAEMIA WITH JARDIANCE®1,3,4
When Jardiance® was taken as monotherapy or in combination with metformin the incidences of hypoglycaemia were similar to that of the placebo3,4.
Insulin and insulin secretagogues are known to cause hypoglycaemia. The risk of hypoglycaemia is increased when Jardiance® is used in combination with insulin or insulin secretagogues (e.g. sulphonylurea)1.
OTHER SIDE-EFFECTS WITH JARDIANCE®1
System Organ Class
Very common
( ≥ 1 / 10)
Common
( ≥ 1 / 100, < 1 / 10 )
Uncommon
( ≥ 1 / 1000, < 1 / 100 )
Metabolism & nutrition disorders
Weight loss
Increased serum lipid
Vascular disorders
Volume depletion (hypotension & dehydration)
Skin & subcutaneous tissue disorders
Pruritis
Renal & urinary disorders
Glycosuria
Increased urination
Dysuria Ketonuria Fluid volume depletion Increased blood creatinine
Decreased glomerular filtration rate
Gastrointestinal disorders
Thirst
Investigations
Increased haematocrit Increased blood creatinine
Decreased glomerular filtration rate
CONTRAINDICATIONS TO JARDIANCE® USE1
Hypersensitivity to empagliflozin or any of the excipients of Jardiance1
Treatment of type 1 diabetes mellitus1
Treatment of ketoacidosis
Moderate and severe renal impairment (creatinine clearance < 60 mL / min), end state renal disease or dialysis
Pregnancy and lactation
JARDIANCE® INDICATIONS1
Jardiance® tablets are indicated for adults with type 2 diabetes mellitus:
As an adjunct to diet and exercise to improve glycaemic control in adults1,
In combination with glucose-lowering medicines, including metformin, athiazolidinedione, a Sulphonylurea, a DPP4 inhibitor, or insulin, when these togetherwith diet and exercise, do not provide adequate glycaemic control1.
REFERENCES:
Jardiance® approved package insert. Date of publication 12 December 2017
Kim g, Gerich J, Salsali A et al. Empagliflozin increases genital infections but not urinary tract infections (UTIs) in pooled data from four pivotal phase III trials. [Unpublished poster]. Poster 74-LB presented at 73rd Scientific Session of American Diabetes Association; June 21-25,2013; Chicago, IL
Roden M, Weng J, Eilbracht J et al on behalf of the EMPA-REG MONO trial investigators. Empagliflozin monotherapy with sitagliptin as an active comparator in patients with type 2 diabetes: a randomised, double-blind, placebo-controlled, phase 3 trial. Lancet Diabetes Endocrinol 2013;1:208-219
Häring H-U, Merker L, Seewaldt-Becker E et al. Empagliflozin as add-on to metformin for 24 weeks improves glycaemic control in patients with type 2 diabetes (T2DM). [Unpublished poster]. Poster 1092-P presented at American Diabetes Association (ADA) 73rd Scientific Sessions, 21 – 25 June 2013. Chicago, USA.
S4 JARDIANCE® 10 mg: Each film-coated tablet contains empagliflozin 10 mg. Reg. No. 48/21.2/1380.
S4 JARDIANCE® 25 mg: Each film-coated tablet contains empagliflozin 25 mg. Reg. No. 48/21.2/0411.
For full prescribing information refer to the package insert approved by the Medicines Regulatory Authority.
BI Ref. No. PC-ZA-100208. 03-2022