Mechanism of Action
MECHANISM OF ACTION OF JARDIANCE® (EMPAGLIFLOZIN) A SGLT2 INHIBITOR FOR THE TREATMENT OF TYPE 2 DIABETES MELLITUS1
Jardiance® is a sodium-glucose co-transporter 2 inhibitor that works independently of β-cell function and insulin resistance1.
Type 2 diabetes is a complex disease characterized by persistent hyperglycaemia, impaired β-cell function and insulin resistance2. With progression of the disease, the changes in β-cells and insulin resistance can limit the efficacy of oral anti-glycaemic drugs to reduce blood glucose levels2.
Jardiance® (empagliflozin) belongs to the drug class of "oral hypoglycaemics" and is a new option for the treatment of type 2 diabetes with a different mechanism of action1.
HOW JARDIANCE® LOWERS BLOOD GLUCOSE LEVELS1,2,3
SGLT2 is located in the early convoluted segment of the renal proximal tubule and is a low-affinity, high capacity transporter of glucose and is responsible for 90 % of renal glucose re-absorption. The re-absorption of the other 10 % occurs through the SGLT1 which is a high-affinity, low capacity transpoter2,3.
Evidence shows that in patients with type 2 diabetes mellitus, the normal SGLT2/Glucose transporter activity becomes upregulated resulting in the increase of the renal re-absorption threshold. This results in increased concentration of glucose in the bloodstream, and this contributes to sustaining the hyperglycaemia in type 2 diabetic patients2,3.
Jardiance® is a SGLT2 inhibitor which blocks the re-absorption of glucose in the proximal tubes, and the excess glucose is excreted in the urine1.
Jardiance® has a high selectivity for SGLT2 (5000 fold) over SGLT11.
MECHANISM OF SGLT2 INHIBITION ON BLOOD GLUCOSE REABSORPTION3,4
GLUCOSE RE-ABSORPTION IN THE KIDNEY3,4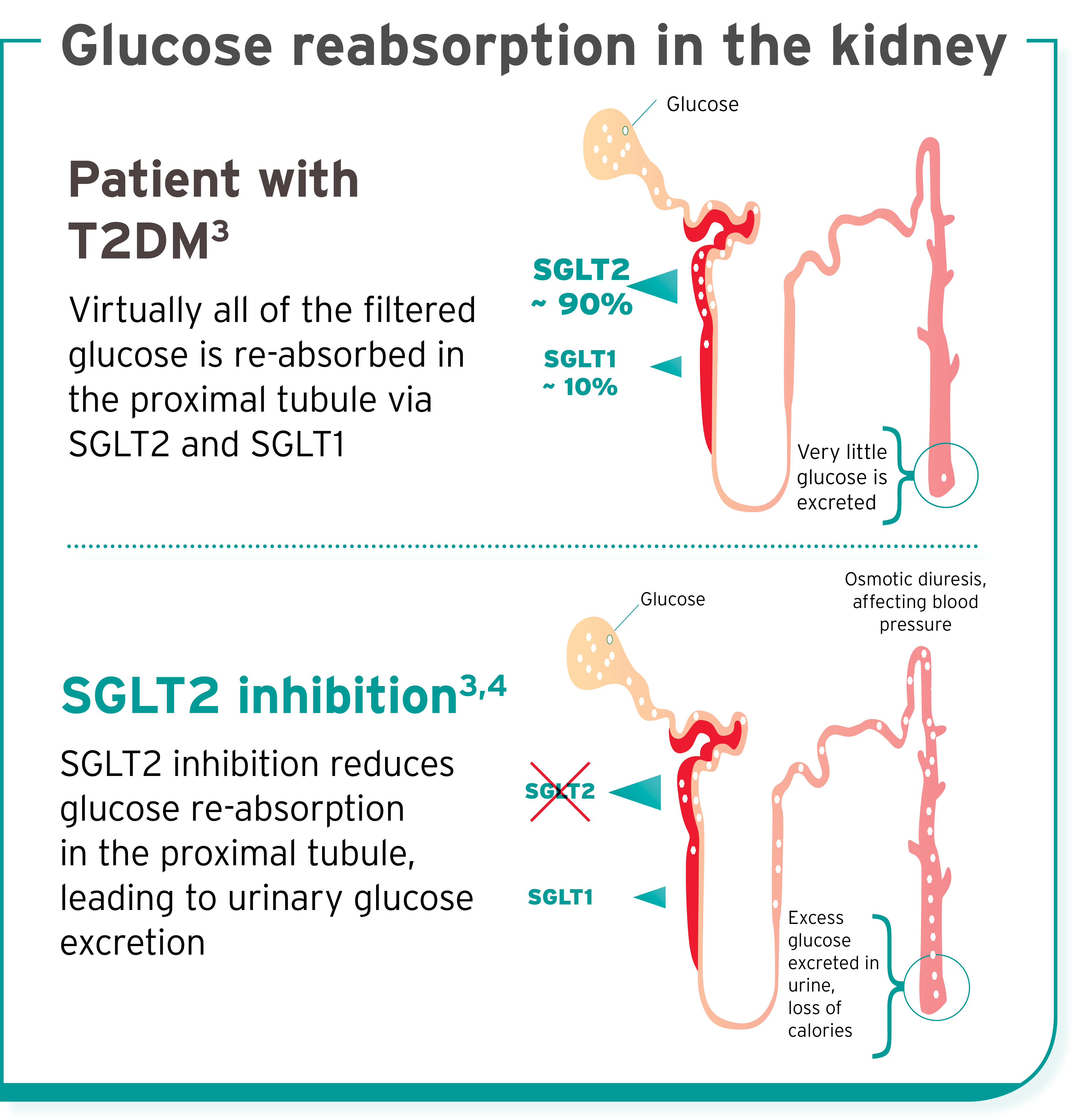 SUMMARY OF SGLT2 INHIBITOR PROPERTIES1,2,4
High selectivity for SGLT2 over SGLT11
Acts independently of β-cell function and insulin resistance1
Decreases plasma glucose1
Reduction in HbA1c2,4
No clinical relevant drug-drug interactions1
Added benefits of weight loss*1,2
Added benefit of blood pressure reduction+1
On their own SGLT2 inhibitors have no or very low risk of hypoglycaemia2,4
*Jardiance® is not indicated for weight loss
+Jardiance® is not indicated for reduction in blood pressure
SGLT1 = sodium-glucose co-transporter 1; SGLT2 = sodium-glucose co-transporter 2
JARDIANCE® INDICATIONS1
Jardiance® tablets are indicated for adults with type 2 diabetes mellitus:
As an adjunct to diet and exercise to improve glycaemic control in adults1,
In combination with glucose-lowering medicines, including metformin, athiazolidinedione, a Sulphonylurea, a DPP4 inhibitor, or insulin, when these togetherwith diet and exercise, do not provide adequate glycaemic control1.
REFERENCES:
Jardiance® approved package insert. Date of publication 12 December 2017
DeFronzo RA, Davidson JA, Del Prato S. The role of the kidneys in glucose homeostasis: a new path towards normalizing glycaemia. Diabetes Metab 2012;14:5–14
Abdul-Ghani MA, DeFronzo RA. Inhibition of renal glucose reabsorption: a novel strategy for achieving glucose control in type 2 diabetes mellitus. Endocr Pract 2008;14:782-790
Ferrannini E, Solini A. SGLT2 inhibition in diabetes mellitus: rationale and clinical prospects. Nat Rev Endocrinol 2012;8:495-502
S4 JARDIANCE® 10 mg: Each film-coated tablet contains empagliflozin 10 mg. Reg. No. 48/21.2/1380.
S4 JARDIANCE® 25 mg: Each film-coated tablet contains empagliflozin 25 mg. Reg. No. 48/21.2/0411.
For full prescribing information refer to the package insert approved by the Medicines Regulatory Authority.
BI Ref. No. PC-ZA-100363. Exp: June 2021