Dosage
DOSE RECOMMENDATION FOR JARDIANCE® (EMPAGLIFLOZIN) A SGLT2 INHIBITOR FOR THE TREATMENT OF TYPE 2 DIABETES MELLITUS1
Jardiance® is a sodium-glucose co-transporter 2 inhibitor that works independently of β-cell function and insulin resistance1.
CONSIDERATIONS BEFORE INITIATING TREATMENT OF TYPE 2 DIABETES MELLITUS WITH JARDIANCE1
The patient must be assessed for hydration and renal function;
Treatment must not be started;

if the patient is acidotic;
if the patient is volume-depleted;
in patients with eGFR < ml / min/1,73 m2 or creatinine clearance is < 60 ml / min;
in elderly patients aged 85 or older.
DOSAGE RECOMMENDATION FOR JARDIANCE® (EMPAGLIFLOZIN)
Jardiance® is a convenient once daily tablet which can be taken at any time of the day and with or without food1.
The recommended starting dose, for the treatment of type 2 diabetes, is Jardiance® 10 mg once-daily. This can be increased to Jardiance® 25 mg once-daily if additional glycaemic control is required1.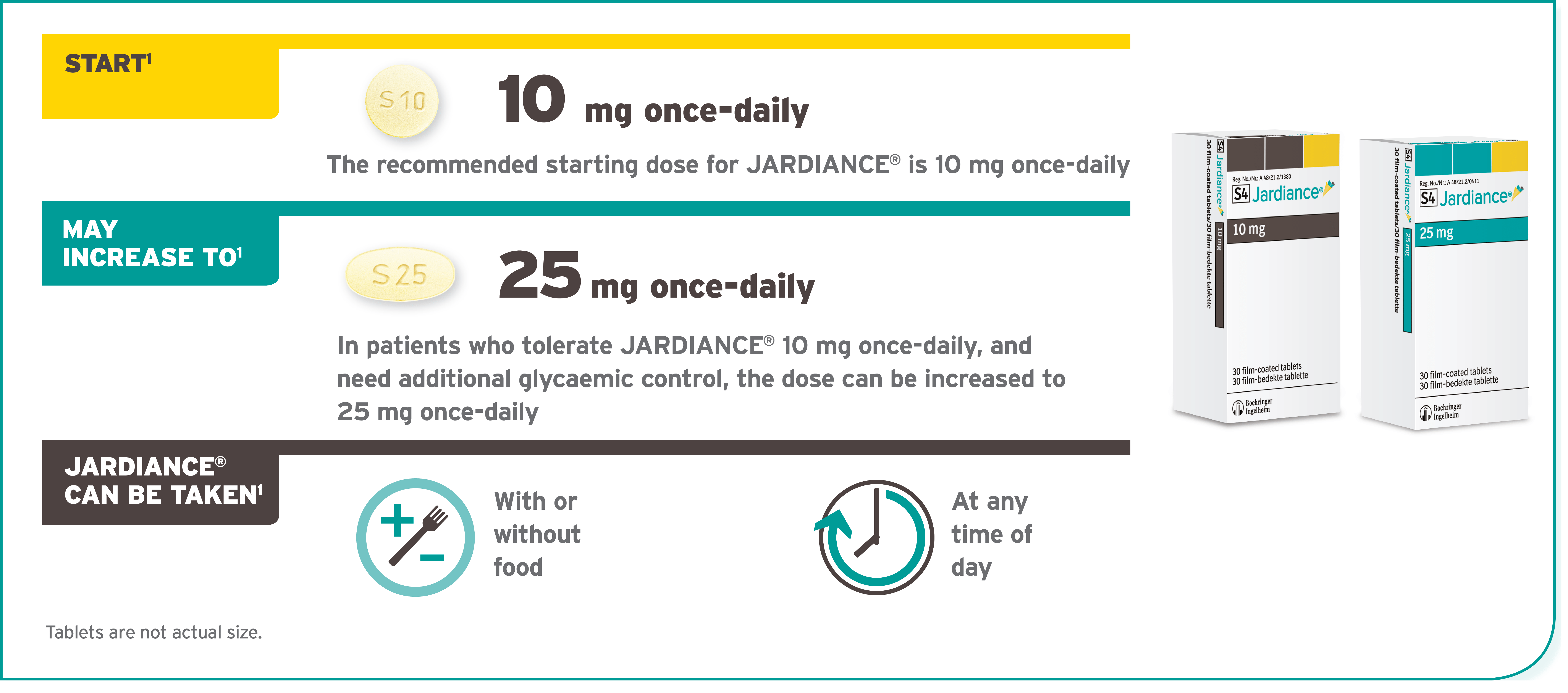 When a patient misses a dose of Jardiance®, it should be taken as soon as possible after the missed dose time. The patient must not have taken a double dose on the same day 1.
DOSAGE OF JARDIANCE® IN PATIENTS TAKING CONCOMITANT MEDICATION1
Jardiance® can be used alone or in combination with other common therapies1.
For patients on insulin or insulin secretagogue (e.g. sulphonylurea), a lower dose of these agents may be needed to reduce the risk of hypoglycaemia when used in combination with Jardiance®1.
There are no clinically meaningful drug-drug interactions which were observed when Jardiance® was co-administered with other commonly used medications 1.
Jardiance® did not effect the pharmacokinetics of metformin, glimepiride, pioglitazone, sitagliptin, linagliptin, warfarin, digoxin, ramipril, simvastatin, hydrochlorothiazide, torasemide and oral contraceptives when co-administered in healthy volunteers 1.
DOSAGE CONSIDERATIONS IN SPECIFIC PATIENT GROUPS1
Renal Insufficiency
Patients with mild renal insufficiency with eGFR ≥ 60 to < 90 mL / min / 1,73 m2
Dose does not need to be adjusted
Renal function to be assessed before treatment started and at least 6 monthly thereafter
Patients with moderate to severe renal insufficiency with eGFR < 60 mL / min / 1,73 m2
Jardiance® not recommended
Hepatic Insufficiency
Dose adjustment may be necessary for patients with severe hepatic impairment
Elderly Patients
When creatinine clearance is ≥ 60 mL / min, no dose adjustment is required
Paediatric Patients
The safety and efficacy of Jardiance® in patients under 18 years of age have not been established
JARDIANCE® INDICATIONS1
Jardiance® tablets are indicated for adults with type 2 diabetes mellitus:
As an adjunct to diet and exercise to improve glycaemic control in adults1,
In combination with glucose-lowering medicines, including metformin, athiazolidinedione, a Sulphonylurea, a DPP4 inhibitor, or insulin, when these togetherwith diet and exercise, do not provide adequate glycaemic control1.
REFERENCES:
Jardiance® approved package insert. Date of publication 12 December 2017
S4 JARDIANCE® 10 mg: Each film-coated tablet contains empagliflozin 10 mg. Reg. No. 48/21.2/1380.
S4 JARDIANCE® 25 mg: Each film-coated tablet contains empagliflozin 25 mg. Reg. No. 48/21.2/0411.
For full prescribing information refer to the package insert approved by the Medicines Regulatory Authority.
BI Ref. No. PC-ZA-100360. Exp: June 2021